Toyota Sienna vs Honda Odyssey – Which minivan should I buy?
Shopping for a minivan and confused as to which is the best? Perhaps you are deciding between the Honda Odyssey and Toyota Sienna. Here's a comparison of the two popular minivans and how the stack up.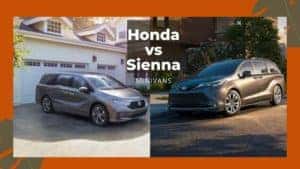 It's rare to find two similar cars that are in the same class, but when you compare the Toyota Sienna and Honda Odyssey, it's hard not to see the similarities between them! Both have seats that can be folded down, both feature roomy interiors, and both offer plenty of safety features. You could argue that they are practically the same car—but which one is better? In this article, we're going to look at each of these cars and see how they match up against each other so that you can figure out which one makes more sense for your family for getting around Jacksonville, Jax Beach, Yulee and Lakeside.  
What is the pricing difference between the two minivans? Honda Odyssey or Toyota Sienna 
The Honda Odyssey has a starting MSRP of $37k compared to Toyota's slightly less expensive starting price of $35k. But with the many trim options available, in the highest tier this could reach the $50k mark. Though the Odyssey is slightly more expensive, if you are financing this car, the price difference is negligible.  
Which minivan has better gas mileage – Toyota Sienna or Honda Odyssey?  
Toyota Sienna: The Toyota Sienna gets about 36 MPG because it is a Hybrid vehicle. The Honda Odyssey gets about 23 MPG in the city and about 29 MPG on the highway. The lower gas efficiency of the Honda Minivan is due to the V6 engine. Stats show that the Toyota Sienna can get 648 miles on a full tank, while the Honda Odyssey will get 371 city / 546 highway.  
Which minivan is better – Toyota Sienna or Honda Odyssey? 
Toyota Sienna has incredible gas mileage and that's a concern for most families. On the other hand, Honda Odyssey has a powerful V-6 engine and offers much more room with the 3rd seat folded than the Toyota Sienna. The Odyssey has 89.2 cubic feet of space with the third seat folded down, while the Sienna has just 75.2.  
 Which one should you choose?  The Toyota Sienna Minivan or Honda Odyssey Minivan
It all depends on what matters most to you! If you drive a lot (those trips to school, soccer functions, play dates and more add up) and use your car frequently for road trips, the Toyota Sienna may be the better choice with its incredible gas mileage.  Check out our selection of new Toyota Sienna vehicles in Jacksonville here. 
But if you use your minivan for yourself to go to work or have a long commute after hauling the kids around you may appreciate items like heated seats and navigation, they come standard in the Odyssey. They are optional on the Sienna, but these things do drive up the price.  
Both Honda and Toyota have solid reputations in the car industry for being very reliable vehicles. And they both have around the same resale value. So, think about your circumstances and preferences to help you decide which minivan is right for you.