Jacksonville Summer Jams – a curated playlist for your road trip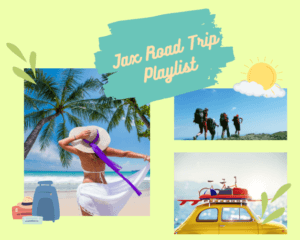 We must admit we are spoiled living in Jacksonville! Not only do we have beautiful beaches nearby, but there's also the downtown Jacksonville Riverwalk that can be enjoyed most of the year. Still, many of us have families that live a little further away  and Disney is only a 3-hour drive from here. And we all know there's no other place like it on earth!  
Perhaps you are looking for a romantic getaway to Miami, which is 5 hours away. With all the crazy airline delays and flight cancellations, it could be  a smart choice to drive anywhere under 7 hours. Whether you decide to fly or drive, this playlist will make time fly by.  
When we first started the list, we focused on southern bands, of which there are many wildly popular bands and musicians like Dolly Parton, The Allman Brothers and Lynyrd Skynyrd. However, we kept thinking of tons of other classic songs that are perfect for a road trip that should be incorporated too,  like hits from Katy Perry to Arrested Development to Credence Clearwater Revival. So we included them  to give you a genre diverse listening experience!  
On the Jacksonville Summer playlist, you'll find anything from 70s rock to 90s R&B and everything in between. But one thing's for sure, there's something for everyone on this playlist.  
Don't forget to schedule service for your Toyota before you hit the road.
If you've got little ones and have heard your share of Encanto and Frozen songs, check out our Summer Playlist. Who knows? Maybe you'll even get your kids in sync with your generations' music. 
Enjoy cruising along the open road!  Here is the Jacksonville summer road trip playlist. 
We especially encourage you to queue up this Spotify playlist or your own playlist for your road trip, whether that drive is near or far. You don't want to be fiddling around with your phone while driving. Check out these features on how your Toyota helps keep you safe – https://www.youtube.com/watch?v=PwG5uw092hc